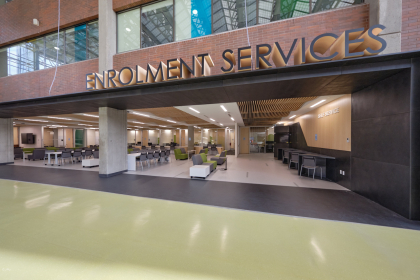 A new one-stop student services hub is complete after a $10.5M renovation at Douglas College's New Westminster Campus. The 2,323 square-metre (25,000 square-foot) space centralizes enrolment services, financial aid, counselling, accessibility services, student recruitment and career services.
"The continuous enhancements being made to our facilities enable Douglas College to meet the needs of students now and for years to come," said Dr. Kathy Denton, Douglas College President. "By creating a learning environment that is adaptive, responsive and forward-looking, we support our goal of graduating resilient global citizens with the knowledge and skills to adapt, innovate and lead in a changing world."
The flexible new environment includes meeting spaces with soft seating and retractable doors, offering comfortable study spaces for individuals or groups. Self-service kiosks have been added, providing students, in non-COVID times, the opportunity to choose when and how they are assisted with enrolment and other services.
Additionally, there is a new Testing Centre, where students requiring accommodated or assessment testing can write exams in an area designed specifically for that purpose, which supports the College's goal of creating responsive and accessible learning environments.
The Testing Centre can accommodate up to 20 students and includes individual exam stations as well as modern elements to maintain academic integrity.
The extensive renovation project, which began in Fall 2019, was funded through the College's capital reserve ($8.5M) and the province of British Columbia ($2M).
For an up-to-date schedule of in-person services available at both campuses, visit douglascollege.ca/current-students.
-30-
Contact:
Maia Odegaard
Communications Coordinator
odegaardm@douglascollege.ca
Community
All Students
Alumni