Program
Hearing Instrument Practitioner
Length of Program
Two years
Admission Type
Limited Enrolment
Overview
The Hearing Instrument Practitioner Diploma gives you the skills and training to help improve the quality of life for people with hearing loss. The only program of its kind in B.C., this two-year hearing instrument specialist program teaches you how to dispense and program hearing aids, test people's hearing and counsel patients on managing ongoing hearing loss.
As a part of your education, you'll get hands-on hearing aid technician training at three supervised practicums. During these practicums, you'll work with actual patients, providing them with hearing evaluations and counselling on test results. Once you graduate, you'll be ready to apply for the Hearing Instrument Practitioner (HIP) Internship. This internship, done through the College of Speech and Hearing Health Professionals of British Columbia (CSHBC), is a necessary step to becoming a Registered Hearing Instrument Practitioner (RHIP) in B.C.
Employment outlook
Overall, 60% of Canadians aged 19 to 79 are living with some form of hearing loss, which means the demand for hearing aid practitioners is expected to grow rapidly. You'll be joining a growing industry, with many of our students finding employment even before they graduate.
Program Requirements
Curriculum Framework
Graduation Requirements:
Successful completion of 60 credits
25% (15 credits) of all coursework must be completed at Douglas College 
Course Requirements:
| | | |
| --- | --- | --- |
| Course Number | Course Title | Credits |
| | Workplace Communications | 3.00 |
| | Hearing Aids and Bioacoustics I | 2.00 |
| | Anatomy and Physiology of the Ear | 3.00 |
| | Introduction to Hearing Aids | 3.00 |
| | Introduction to Hearing Testing and Clinical Practices | 4.00 |
| | Hearing Disorders | 3.00 |
| | Introduction to Hearing Aid Fitting, Analysis and Verification | 4.00 |
| | Introduction to Audiometry | 4.00 |
| | Clinical Practicum Introduction | 4.00 |
| | Hearing Aids and Bioacoustics II | 2.00 |
| | Hearing Instrument Practitioner Regulation | 2.00 |
| | Advanced Fitting and Clinical Practices | 3.00 |
| | Audiometry II | 4.00 |
| | Hearing Impaired Patient Interaction | 2.00 |
| | Peripherals and Assistive listening Devices | 3.00 |
| | Clinical Practicum II | 4.00 |
| | Audiometry III | 4.00 |
| | Clinical Practicum III | 6.00 |
| Total Credits |   | 60.00 |
Admissions Requirements
Applicants must meet the admission requirements listed below:
High School Graduation (successful completion of two three-credit university transfer courses may be substituted for high school graduation)
Foundations of Math 11, Pre-Calculus 11 or Pre-calculus 12 with a minimum of C (or equivalent)
Signed documentation of a Hearing Clinic tour or signed attendance at a Douglas College Information Session for the Hearing Instrument Practitioner Program
Criminal Record Check (CRC) - This program requires students to train in an environment that requires individuals to provide proof of a satisfactorily completed, current CRC for the protection of the clients. To meet this requirement, prospective students must submit to a current CRC as a condition of entry to the program. All costs related to the completion of this search are the responsibility of the individual student.  The Registrar's Office will provide instructions on obtaining a CRC after an offer of admission is made
Applicants may be required to attend a personal interview that will be used for the purposes of providing information and academic counseling
Cost
You can get an average cost for your program - tuition and student fees, books, uniforms, lab fees etc - on the Program Cost page. 
Only programs approved for student loan funding are listed on the Program Cost page. For all other programs, refer to the Tuition Fee page.
Career Pathways
Career opportunities include:
Assistive Listening Device Technician 
Audiologist & hearing Instrument Practitioners 
Audiometric Aide/Technician 
Audiometric Technician - public health 
Audiometric Technician 
Audiometrist and Audiometrist Aide 
Contact Centre Agent 
Customer Care Representative
Customer Service Supervisor 
Health Promotion Facilitator/Coordinator 
Hearing Aid Assessment Technician
Program Guidelines
Program Guidelines for previous years are viewable by selecting the version desired. If you took this program and do not see a listing for the starting semester / year of the program, consider the previous version as the applicable version.
Testimonials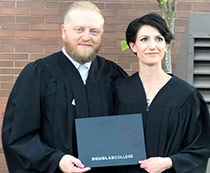 HEARING THEIR CALLING
These HEAR grads found more than just a rewarding career – they also found each other.