Follow your passion for acting and lay the foundation for your career in the performing arts. The two-year, full-time Douglas College Theatre Diploma Program provides you with professional training and education in five key areas: voice and speech, movement, acting, theatre history and production.
You will work closely with students in the Stagecraft and Event Technology program to produce four major theatre productions and learn behind-the-scenes skills such as publicity and promotion.
Get hands-on experience on-stage and backstage in four major theatrical productions.
Work with faculty who are experienced theatre, film and television professionals. 
Perform in the modern 350-seat Laura C. Muir Theatre as well as the Studio Theatre.
Earn university-transferable credits. Graduates often transfer to complete a bachelor's degree at universities both in Canada and abroad, such as UBC, SFU, UVic, University of Alberta, Sheridan College, University of Wales (UK) and more.
Gain Competitive Skills
Successful actors are self-aware, confident, and skilled in communication, empathy, observation, leadership and teamwork. These skills will not only prepare you for roles on stage, but also for a variety of other career paths within the arts and beyond; you could pursue such roles as director, producer, casting agent, arts administrator, broadcaster or teacher.
Auditions
Once you've been accepted to the College, you'll need to audition for the Theatre program. More details about auditions steps, format, panel and latest updates are available on our auditions page.
Current Theatre Productions
Students from our Theatre and Stagecraft programs work on stage and behind the scenes under the guidance of professional directors and designers to produce two productions per semester. View our current Theatre productions.
Photo gallery
Visit Douglas College Theatre Department Flickr gallery to view our theatre production photos.
"Trojan Women" presented by Douglas College
Why you should study Theatre at Douglas College
Theatre, Stagecraft and Event Technology
Student Success Story
Theatre student Jackson Boudreau discovers passion for bringing characters to life.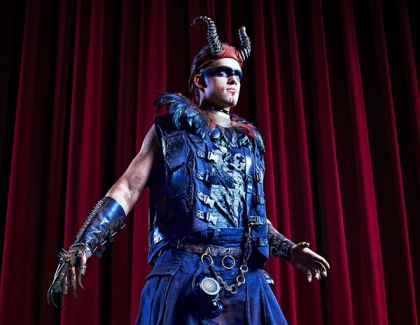 Want more information?
For admission requirements, courses, intake dates and more, visit the Program and Course Catalogue
Read More