Douglas College is inviting the community to celebrate National Coaches Week from September 19th – 27th, 2020.
National Coaches Week celebrates the positive impact coaches have on athletes, participants, and communities across Canada. This week is an opportunity to recognize coaches for the integral role they play by saying #ThanksCoach. With virtual activities held across the country to celebrate coaching, National Coaches Week provides coaches with the recognition they deserve for the time they devote to ensuring Canadians live an active, healthy lifestyle. For more information on events happening in your region, visit www.coach.ca/nationalcoachesweek.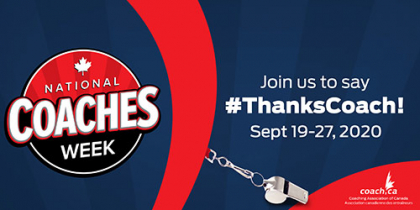 In the meantime, please check out ViaSport Coaching for the latest information on coaching initiatives around British Columbia. 
SPORT SCIENCE DEPARTMENT VIRTUAL ACTIVITIES
September 21st – 25th
For five days Sport Science students will be saying thank you to the coaches who have been an inspiration to them following the hashtag #ThanksCoach. We will also hear from some SPSC students and alumni who currently hold coaching position. Watch the videos using the links below to hear their coaching journey, inspirations, advice, and why they love to coach. Be sure to follow us on the Sport Science Student Council Facebook page for updates and #ThanksCoach videos as well. 
National Coaches Week Video Interviews: 
How can you join?
Please share your messages or short #thanksCoach videos by emailing our Sport Science Coaching Ambassador, Shelby Gingrich at dccoachingambassador2020@gmail.com and she will post them on the SPSC Facebook page.
Enjoy FREE or discounted NCCP education: During National Coaches Week, coaches can diversify their coaching knowledge with free or discounted NCCP education. Log into the Locker to access specific eLearning modules for free from September 19-27, 2020 or check out the list here: https://coach.ca/free-nccp-elearning.
Remember to call, email, or Zoom your coaches to say a special thank you for all that they have done for you.
Coaches matter!
Coaches make valuable contributions to the quality of life in communities across Canada.
Coaching contributes significantly to volunteerism in Canada.
Coaches develop young athletes' passion for sport that can carry them on to greater heights
Coaching the numbers:
More than 1.5 million people in Canada have received training in the National Coaching Certification Program (NCCP).
One in seven Canadian will coach at some point in their lifetime