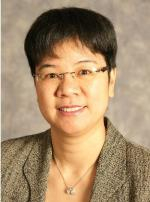 Faculty member
Marketing Department
Faculty of Commerce and Business Administration
Anvil Office Tower 636, Douglas College
Tel: 604 527 5985
Email: hilder@douglascollege.ca
Educational Credentials
Doctorate in Business Administration (DBA), Organizational Analysis (Athabasca University, Canada), Master of Business Administration (MBA), Strategic Marketing (University of Durham, UK).
Professional Affiliations
The Academy of Management (AoM), Canadian Society for Marketing Professional Services (CSMPS).
Marketing Concentrations
Marketing Research Methods, Marketing Intelligence, Business Marketing, Professional Selling, Sales Management, Organizational Analysis/Behaviour and identity theory.
Professional Profile
Rosalie has worked in various senior marketing management positions in Canada and overseas (Hong Kong, Canada and UK). She has a combination of management/marketing experience in the travel and hospitality industry as well as in the advertising/promotion field. She has taught at Thompson Rivers University, College of New Caledonia, and Red Deer College in Canada as well as in Hong Kong for over 20 years.
Rosalie has received several awards and recognitions for her teaching and research, including the best doctoral dissertation of the Academy of Management (AoM) Critical Management Studies (CMS) Division (2013) --- the largest international body for management academia, the convocation scholarship for academic excellence (2013), research award recipient for highest GPA (2011), travel award recipient for academic conference (2010, 2011, 2012, 2013). She is an active researcher focusing on diverse topics, such as consumer research, identity work, immigrants' work experiences, qualitative research methodology, critical sensemaking and organizational analysis.
She has published in several academic journals and books, such as Critical Perspective of International Business (cpoib), Equality, Diversity and Inclusion: An International Journal (EDI), the Oxford Handbook of Diversity Management, and the Making Critical Sense of Immigrant Experience. She is a regular presenter in workshops and academic conferences, such as the Academy of Management and the Administrative Sciences Association of Canada. She was an Executive Committee member of the Critical Management Studies of the Academy of Management (AoM) for over 6 years in various positions and has been a regular journal/conference reviewer.