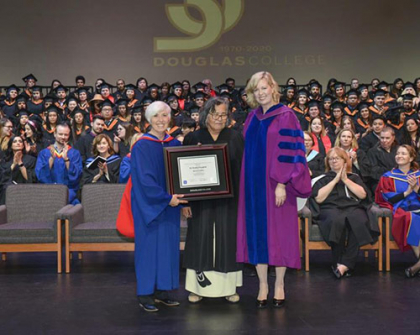 Perseverance and a passion for learning took Dr. Evelyn Voyageur from residential school, to post-secondary, to being named Honorary Fellow.  
Douglas College named Dr. Voyageur – registered nurse, educator and nationally recognized leader in Indigenous health – as Honorary Fellow. This designation is the highest honour presented by the College.
Dr. Voyageur began her nursing career as a licensed practical nurse. In 1977, she entered the nursing program at Douglas College where she graduated with a diploma in general nursing. She became a registered nurse in 1978, and over the course of her 25-year nursing career, Dr. Voyageur earned bachelor's and master's degrees, as well as a PhD in Psychology.
Although she was sent from her home in Gwa'yi (Kingcome, B.C.) to St. Michael's Residential School at the age of 10, Dr. Voyageur speaks Kwak'wala fluently and is an active matriarch in Kwakwaka'wakw culture and traditions. From 1999-2003, she worked with the Indian Residential School Society, using her education and experience to support survivors.
"Dr. Voyageur's contributions to health care, post-secondary education and Indigenous communities reflect the values and passion that Douglas College strives to promote in our students," said Dr. Kathy Denton, President of Douglas College. "Her dedication to supporting and mentoring future generations of nurses is truly inspiring."
In the early 1980s, Dr. Voyageur founded the Native and Inuit Nurses Association of B.C., co-authored a number of publications on cultural safety and nursing, and was instrumental in the development of A'eka-lixl, a community-led health initiative in which culture is the foundation of wellness in Wuikinuxv and D'zawada'enuxv First Nations.
"While I have received honorary awards in the past, it is truly an honour to receive one from Douglas College," said Dr. Voyageur. "When I began my nursing education, I went to a local college, but was failed. Douglas College is where I graduated as an RN."
Over her career, Dr. Voyageur has received numerous awards, including the Indspire Award for Outstanding Career Achievement, the CNA Top Nurses of Canada Award and an ARNBC Lifetime Achievement Award. She was the first Indigenous nurse to receive Health Canada's First Nations and Inuit Health Branch Award of Excellence in Nursing.
Dr. Evelyn Voyageur is currently the Elder-in-Residence, as well as a valued instructor, at North Island College on Vancouver Island.