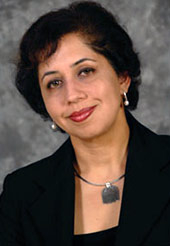 Faculty Marketing
Department Faculty of Commerce and Business Administration
Office A3057, David Lam Campus, Douglas College
Tel: 604 777 6274
Email: vipatp@douglascollege.ca
Educational Credentials
BA (Econ) University of Zambia, MBA (Marketing) Simon Fraser University
Professional Affiliations
American Marketing Association; Marketing Educators Association
Marketing Concentrations
Consumer Behavior, Small Business Development, Professional Selling and Marketing Strategy.
Professional Profile
Padma has more than 15 years experience in the education field as an instructor, working in the college and university environment. Before joining Douglas College she has taught at SFU, BCIT and NVIT. She comes to teaching with retail management, sales, university administration and entrepreneurship experience. Padma has worked on research projects for the International Labor Organization (United Nations) and the National Commission for Development Planning in Zambia. She is passionate about teaching and has advanced training in teaching students with learning difficulties. She has authored instructional resources in the field of sales on several occasions and has edited several publications in the areas of marketing, sales and consumer behavior.
Padma is the founder of Intuition Educational Services, a consulting company that has been providing educational and marketing services to clients for the past 10 years.
Degree Philosophy
"The marketing degree at Douglas College is going to provide students an opportunity to continue their studies in the same student-oriented and supportive environment that they have come to expect at Douglas College. Increased globalization is forcing the Canadian labor force to re-train and recreate a competitive advantage which is going to have to come from an educated workforce. Our students are ready to take on that challenge and at Douglas College we are confident we will be able to deliver the education that is going to provide students with job ready skills for the new economy."