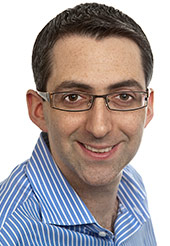 Faculty Member
Marketing Department
Faculty of Commerce and Business Administration
Anvil Office Tower 632, Douglas College
Tel: 604-777-6574
Email: hakakb@douglascollege.ca
Twitter: https://twitter.com/hakak
Educational Credentials
Master of Digital Media (MDM) - Focus in Marketing, Ryerson University – Toronto, ON E-Commerce and Web Marketing Certificate, University of Toronto – Toronto, ON Public Relations and Publicity Certificate, University of Toronto – Toronto, ON Sport and Event Marketing Postgraduate, George Brown College – Toronto, ON B.A. Degree: Marketing and Communication, ESPM University – Rio de Janeiro, Brazil
Professional Affiliations
Digital Analytics Association
Marketing Concentrations
Digital Marketing, Sport and Event Marketing, Social Media, Marketing Strategy, International Marketing, Branding, Advertising, Integrated Marketing Communications, Fundraising and Marketing Promotions.
Professional Profile
Benny Hakak has a passion for all things marketing. He understands the fundamental role that marketing plays in modern society, for businesses and organizations of all purposes and sizes, and is thrilled to be able to share his know-how about this essential topic to future business professionals at Douglas College.
Benny has worked in marketing in multiple industries both in Canada and overseas, including but not limited to sports, events, tourism, tech, broadcast media, non-profit, education and real estate. Throughout his career of almost 20 years, he worked with and led teams of marketers and oversaw countless online (digital) and offline (traditional) marketing and advertising campaigns, utilizing diverse marketing channels and new technologies. This experience now enables him to demonstrate key concepts in class with the support of an extensive assortment of real life examples.
Benny Hakak has been teaching marketing at Douglas College since completing a Master of Digital Media (Marketing Focus) with Honours at Ryerson University in Toronto. He has also taught at the University of the Fraser Valley and Langara College. A lifelong soccer fan and native of Rio de Janeiro, Brazil, Benny is also fluent in both Portuguese and Spanish.