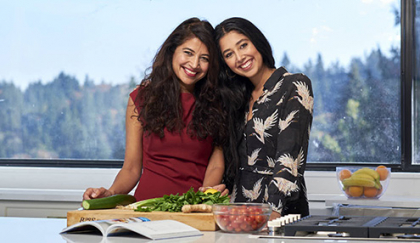 When Bal Arneson's daughter told her she wanted to begin her post-secondary career at college instead of university, Bal was thrilled.
Known as the Food Network's "Spice Goddess," Bal single-handedly created a culinary empire with cookbooks, TV shows and, soon, restaurants.
Where did she begin her post-secondary career? At college.
"I went to college first, even though I had the option to go to one of B.C.'s top universities. I loved the idea of smaller classrooms. You're not just a number; you're a person, and you have a better connection with teachers," Bal recalls.
Her daughter, Anoop Virk, had her pick of universities, but chose Douglas College for the same reasons as her mom. 
"It was a no-brainer," says Bal. "We both thought Douglas was the best choice for a smooth transition."
A graduate of the SFU-Douglas College dual-degree program in International Studies, Anoop, now 25, is a powerhouse in her own right. She acts as producer, business partner, manager and more for her mom. She founded a project that builds schools in Zambia, whose student body is mandated at 50 percent girls, and she runs a blog and web series, Project Women Warriors, which highlights strong local women. 
To top it all off, Anoop is the first – and only – female executive producer for TEDxVancouver.
She credits Douglas with helping her succeed.
"Douglas College helped me so much with my personal development. I had the opportunity to get involved on campus, make connections and even now, the people I met at Douglas are still cheering me on with each milestone," Anoop says. "I don't think I'd be where I am now if I hadn't gone to Douglas."