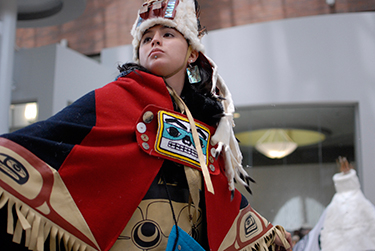 National Indigenous People's Day – June 21st 
For the annual June 21 National Indigenous People's Day, the Indigenous Student Services Centre streams Indigenous movies, the Git Hayetsk Dancers dance in the concourse and a bannock and chowder lunch is served in the Gathering Place.
The day begins with a traditional opening ceremony and smudge. Workshops and talks on Indigenous cultures are held in the Gathering Place.
Orange Shirt Day - September 30th 
Orange Shirt Day is about bringing awareness to the legacy of Residential Schools, and more specifically, Phyllis Webstad's personal experience. Previously, Indigenous Student Services, with the Aboriginal Stream have set up information booths at both campus's, asking students and staff what Reconciliation means to them. Going forward, we hope to build upon the awareness of Residential Schools and the Truth and Reconciliation in the Douglas College community with the goal of making Douglas College a more inclusive space for Indigenous students.
Sisters in Spirit – October 4th
Every year, the Indigenous Student Services Centre, together with the Douglas Students' Union and the Douglas College Women's Centre, hold a vigil honouring the lives of missing and murdered Indigenous women and girls. In 2019, we played a short documentary "Our Sisters in Spirit-MMIWG documentary" telling the story from the families of missing and murdered women and girls across Canada. After the documentary, a talking circle to debrief took place and a smudging ceremony was offered.
Missing and Murdering Indigenous Women and Girls March - February 14th 
Join Indigenous Student Services, the Douglas Students' Union and students on the march for MMIWG on February 14th, 2020 for the first time. We will be displaying content in the NW concourse the two days before the event, bringing awareness to those who are unfamiliar with this tragic phenomenon. Everyone is welcome to attend. Please contact Indigenous Student Services for more information.