---
In early July 2021, Microsoft identified a cybersecurity issue that affects printing. While Microsoft is yet to resolve the issue, Douglas College is providing a temporary solution to help students print on-campus. Information on temporary print locations is listed below. 
Douglas College's printing management system is called Papercut.
For the 2021 Fall Semester, each student is given 10 sheets of free, letter-sized black and white printing.
Students can print up to 20 pages double-sided prints per print job. Larger print jobs can be accommodated by printing multiple batches. 
Printers are available in select student areas. For lab availability, visit COVID-19 FAQ page and refer to the FAQ "Can I still study on Campus". 
Print Locations
---
New Westminster
Library, N5105, N5107, N5109, N5111, N6105, N6107, N6109, N6111, N6212  
Coquitlam
A1080, A2030, A2046, A2081, A2110, A2130, A2270, A2290, B1307, B2180, B2190, B2230, B2270, C2050, D2010, D2012, Library 
Anvil Centre
6th Floor Student Printing Area 
7th Floor Student Printing Area
Reached your free print limit for this semester?
---
Follow the steps below to purchase additional pages for printing.
Contact the Library Circulation Desk at 604-777-6130 or 604-527-5568 for additional pages. Mon-Fri 8:00 am - 9:00 pm, Sat 9:00 am - 5:00 pm. Closed Sun & holidays.
The cost of purchasing additional pages is $0.10 per page. Use your debit or credit card to make the payment. Please note the purchased pages are non-refundable and non-transferable.
You will receive an email indicating the pages have been added to your Papercut account.
The additional pages that you purchase are valid till the end of your study.
Check your balance
---
To check your available balance log in to https://print.douglascollege.ca or view your balance on your desktop in the top right corner (Ref: the screenshot below)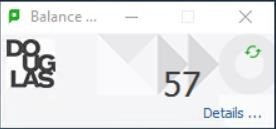 Issues with paper jams or toner
---
If your print job was unsuccessful due to a paper jam or a bad toner you can follow the below steps to get a refund.
Login to https://print.douglascollege.ca (on campus only).
On the left menu choose Recent Print Jobs (Click on Filter On for older print jobs). Select Refund.

If you need any other technical support while printing on campus, contact the Students Helping Students or email CEIT Service Desk at servicedesk@douglascollege.ca for assistance. 
As always, CEIT recommends that everyone keeps their personal devices up to date with the latest updates from Microsoft and Apple. 
We encourage you to consider the environment and only print when necessary.