Spice up your exercise routine by completing one of our virtual fitness challenges this semester! Connect your favourite fitness apps or manually log your fitness activities and submit your results to be entered to win prizes and claim your spot on the challenge leaderboard.
Summer 2021 Douglas College Virtual Challenge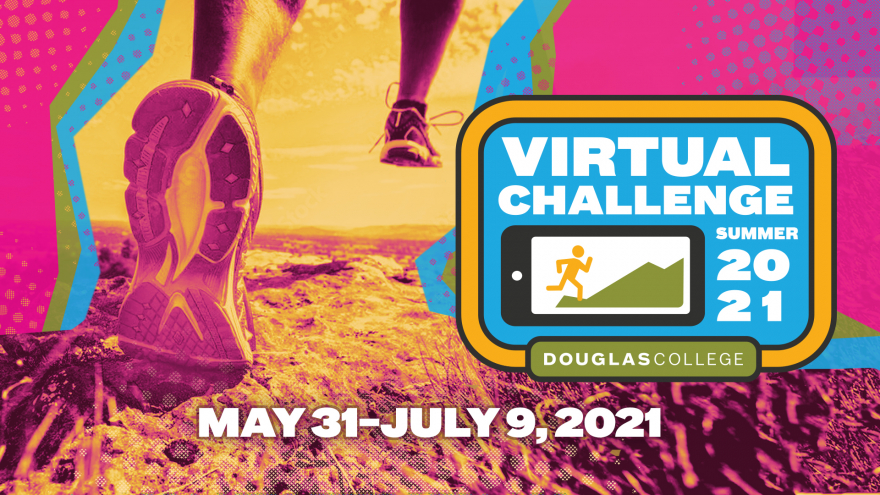 Are you ready to tackle Douglas College's Summer Virtual Challenge? Back by demand but with a twist, the Virtual Challenge now has two ways for you to get fit and active. This summer, we will maintain the 120 km goal for your distance-based activities over the 6 weeks, along with the added challenge of 900 active exercise minutes for those activities that are not distance based (fitness classes, sports, workouts etc). Once again, participants can walk, run, bike, and swim throughout the Metro Vancouver region for their distance-based activity, however, now participants can enter active exercise minutes when they play recreational sports, take part in fitness classes, or complete a workout session. The activities can be simply logged both online by our manual input sheet, as well as into our Strava group. The 6-week challenge is to either complete the 120km distance challenge (avg. 20km/week or a little less than 3km per day), or 900 active exercise minutes (avg. 150 minutes/week or just over 20 minutes a day).
Why are we adding active exercise minutes?
We wanted a better way to track and reward your efforts for activities that are not distance based. In the past, we opted to use a conversion chart for activities where a distance was not measurable but we found that the conversions could be skewed and inaccurate (it's pretty difficult to estimate how many km's you travel during a weightlifting session!). Active minutes allows us to track and reward you for exactly what you accomplished; the number of minutes you were engaged in moderate to vigorous activity.
Who can join? Registration is open to all students and employees of Douglas College
When does it start? May 31- July 9 2021. Registrations open May 18 and close May 30.
Where are these virtual hikes? We will be featuring park, lake, or viewpoint locations from across the Greater Vancouver Region. 
How can I join? It is a simple two step process:
Sign up on our registration form
Join the Douglas College Recreation Strava group and each time you are active, use the app to track your activity
Can I register and join my department or faculty team?
Absolutely! Any student, staff, or faculty can join their faculty or department teammates . Simply answer the questions on our registration form and we will get you grouped with your friends and colleagues.
Are there prizes? Yes! Complete a minimum distance of 20km, or 150 active minutes for the challenge and you will receive an event t-shirt. Complete the entire distance of 120km or 900 active minutes of the challenge and you will receive a Virtual Challenge "Finisher" t-shirt. Additionally, for every 10km in distance, or 75 active minutes that you complete (maximum of 12 ballots per person), you will earn a ballot to be entered into a draw for our prize pack.