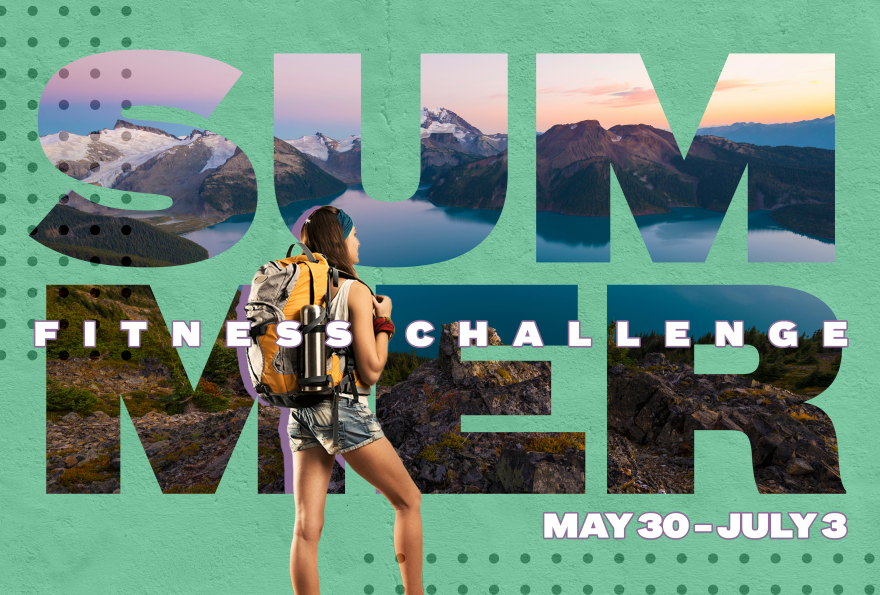 Are you ready to take on the next Fitness Challenge? With many new badges and activities, the Summer 2022 Douglas College Fitness Challenge will get you enjoying the outdoors. Come track your 100 km (20 km/week) journey by walking, running, hiking, biking, or any other distance-based activity via the use of the Strava app or manual submission forms. Do you prefer working out or playing sports for your active lifestyle? We can track that too! Accumulate 750 active minutes over this 5-week challenge by playing a sport, weightlifting, and attending our recreation activities throughout the challenge.
Who can join? Registration is open to all students and employees of Douglas College
When does it start? May 30 - July 3 2022. Registrations closes May 30th.
How can I join?  It is a simple two-step process:
1.     Sign up via the registration form
2.     Join the Douglas College Recreation Strava group and each time you walk, swim, run, jog, bike, use the app to track your distance. OR submit your weekly exercise activity via our manual submission form
Are there prizes?  Absolutely! for every 10km that you complete (maximum of 12 ballots per person), you will earn a ballot to be entered into the grand prize draws. The grand prize packs will be the following:
Prize 1: Polar A300 fitness and activity tracker, Douglas College Royals swag.
Prize 2: Polar A300 fitness and activity tracker, Douglas College Royals swag.
Prize 3 (Lululemon Prize Pack): Lululemon yoga mat, yoga strap, Douglas College Royals swag.
Prize 4 (Student-only prizing): $100 gift certificate to the Douglas College Bookstore, Douglas Royals swag.
----NEW FOR SUMMER 2022----
Student Only Teams
Students can now join as a student-only team and participate in receiving our weekly badges. Register with your friends and log your activities in the Strava app or manual submission form and we will help track your team's progress to virtual badges awarded weekly! Enter your team name and your teammates in your registration form and we will get you set up to complete the challenge together.
Simplified Leaderboard standings and changes to the virtual badge award tracking
We will be returning to our previous leaderboard style which only tracks an individual's total active minutes and total kilometers. Along with this change, we will not be using a tiering system to award weekly badges. To earn a badge, the goal threshold must be met or exceeded.
Cycling distance adjustment
Cyclists tend to cover more kilometers than runners or walkers. We are implementing a 1 to 3 run-to-bike ratio to balance how this activity affects the earning of badges. This means that three kilometers of cycling at a moderate effort equals one kilometer of running at that same effort level. Our recreation team will make the adjustment at the end of each week.
  BADGE NAME

REQUIREMENT

20 KM Average Badge
 

Team average of 20KMs or more to earn this badge.

 

150 Active Minutes Badge
 

Team average of 150 Active minutes or more to earn this badge. 

 

Recreation Activities Badge

One or more members of your team attends the weekly recreation activities. Recreation activities will be as followed:

Week 1 – Spikeball

Week 2 – Spikeball & Tennis

Week 3 – Badminton & Tennis

Week 4 – Bocci

Week 5 – Fitness Classes

*Events details will be highlighted in the weekly updates on Strava and email.

Tag Team Badge

Complete an activity with anyone in the fitness challenge. You can earn this badge by tagging another participant into your activity on Strava.

 

This is done on the Strava app:

By clicking on your activity once uploaded
Then clicking "with someone who didn't record?"  Or you can just simply put the participants' name in the activity title.
Same can be done if you are filling out a manual submission form.

Trail Badge

Earn this badge by having 1 or more of your team members either take a picture of them on a hike, or put the name of the trail in the title of your activity on Strava or via the manual submission.

Walking Club Badge

1 or more members of your team attends the social walking club during lunch time. Meeting locations will be at the COQ atrium and NW Concourse. Details to follow in weekly updates.
Have questions or need more info? Reach out to Shashi at athletics@douglascollege.ca