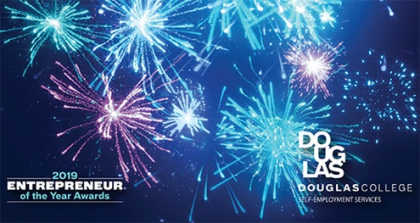 On Tuesday, March 5, 2019, Douglas College Self-Employment Services hosted the annual Entrepreneur of the Year Awards at the beautiful Anvil Theater in New Westminster. This prestigious event celebrates the success of alumni from the Douglas College Self-Employment Program, recognized as one of the largest and most successful entrepreneurial training programs in Canada.
The evening began with a networking reception, followed by the awards presentation. Attending dignitaries from New Westminster included the City of New Westminster's Economic Development Office Manager, Blair Fryer, Economic Development Planer, Carolyn Armanini, as well as Mellissa Ratcliff, CEO of the New Westminster Chamber of Commerce. 

Other VIPs included the Burnaby Board of Trade Board Chair Andrew Scott, City of Coquitlam Mayor Richard Stewart, and the Tri-Cities Chamber of Commerce Tourism Manager representing the Economic Development Office, Eric Kalnins, and Board Chair Randy Webster.

Nominee submissions for the Entrepreneur of the Year Awards were considered on the basis of five criteria: business achievements, product and service differentiators, marketing and operational strategies, community service and revenue. Two finalists and one winner were recognized in eight award categories, including overall Entrepreneur of the Year.
Congratulations went out to this year's winners and finalists for their outstanding achievements with the winners and finalists of each of the eight categories highlighted below:
High Tech Category Winner: Don Lekei, Help-My Tech - help-my-tech.ca

Finalists:
Daria Terekhina, The Real Snob - therealsnob.com

 
Construction/Manufacturing Catagory: Noe Galindo Monarch Roofing Services - monarchroofing.com

Finalists:
Amy Savoie, Woodshop Girl - woodshopgirl.com
Clark Zhao, Richmond Plumbing Solutions Ltd.

 
Retail Category: Courtney Hunter, Shameless Resale - shamelessresale.com

Finalists:
Amanda Rogers, Lashd Eyelash Design - thelashdlife.com
Adele Kafer, Connected Heart Cranial Sacral - cranialsacraltherapy.ca

 
Service Category: Fatma Taha, Big Hearts Homecare - bigheartshomecare.ca

Finalists:
Jessie Sutherland, Intercultural Strategies - Interculturalstrategies.ca
Adrianna Golinsky, I Heart Clean - iheartclean.com
Home Based Category: Ivonne Navas, Explore I.D.E.A.S Immigration & Education - immigrationandeducation.com

Finalists:
Meitha Ratu, Canada-Indonesia Employment & Education Solutions (CIEES) -  https://sites.google.com/meitharatuciees.org/canada-indonesia
Holly Munn, BrandFreek Communications - brandfreek.com

 
Newcomer Special Recognition:  Olexandr Syraiev, Northwest Storage & Fulfillment Inc. - northprep.com
Health and Wellness: Mary Jane Gallagher, Sunflower Yoga & Healing Arts - sunfloweryoga.ca

Finalists:
Michelle Tremblay, Mpower Lives - mpowerlives.com
Valerie (KJ) Terry, Alternative Roads Community Services

 
Perseverance: Sandra Giraldo Mendez, Hundred Languages Childcare Inc. - hundredlanguages.com

Finalists:
Jasinder (Jay) Bains, Sunrise Event Planners Inc.
Susan Dooley, Chez Susanne's Specialty Coffee Wagon

 
Overall Entrepreneur of the Year:  Supneet Kaur Chawla, Ace Trades and Technical Institute Inc. - www.atticanada.ca

Finalists:
Courtney Hunter - Shameless Resale - shamelessresale.com
Noe Galindo, Monarch Roofing Services - monarchroofing.com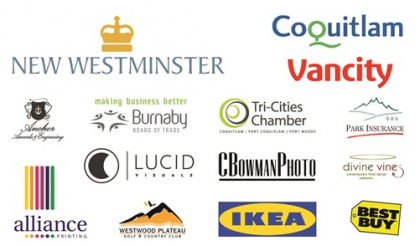 The 2019 Entrepreneur of the Year Awards received tremendous support from its sponsors: the City of New Westminster, the City of Coquitlam, the New Westminster Chamber of Commerce, the Burnaby Board of Trade, the Tri-Cities Chamber of Commerce, Anchor Awards & Engraving, Park Insurance, BNAC Environmental Solutions, Divine Vines Flowers, Lucid Visuals, CBowman Photography, Alliance Printing, IKEA, Best Buy and Westwood Plateau Golf & Country Club. 
Entrepreneur Ivonne Navas was a big winner at the Douglas College's Business/Self Employment Program's recent awards ceremony.  See her Story from The Record (New Westminster): New West resident earns kudos from college for entrepreneurial efforts 

We wish to extend our sincere thanks to all the EYA 2019 sponsors for their contribution to this year's event.