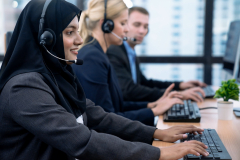 👉 JUMPSTART your CAREER in an Administrative / Customer Service job by updating and refreshing Microsoft Office 365 applications. 
Through targeted skills development, practice and work experience, job seekers will gain the knowledge and training needed for high opportunity occupations in the Lower Mainland. Participants will learn and practice the highly sought-after skills employers seek in today's job market.
WHAT DOES THIS PROGRAM OFFER?

WHO IS THIS PROGRAM FOR?

This 17-week ONLINE program includes:

11-weeks Technical and Employability & Essential Skills Training

Microsoft Word, Excel, PowerPoint, Outlook, Office 365 & Adobe, Certificates
SuperHost Certificate
Diversity and Inclusion Foundations Certificate

4-weeks of Work Experience Placement
2-weeks Job Search & Placement Support

ELIGIBILITY CRITERIA:
 

Immigrants,

OR Indigenous Person,

OR Persons with Multiple Barriers to Employment,

OR Youth-(ages 15 - 29).
 

WHO:

Are currently receiving EI or have had a claim in the last 5 years OR are a British Columbia Employment and Assistance Client.
CLB level 5+ required
* Previous Program accepted 29 participants, and all 29 completed with 24 securing employment and, upon completion earning an average hourly rate of $22.50
---
What our participants have to say:
Previous participant:
This has been a great course, and it helped me tremendously with improving essential skills, boosting confidence, and finding a job at last.
All the instructors and career advisors were very caring and supportive throughout the program.
Previous Employer:
It was a wonderful opportunity to digitize all our HR files. We knew it would take time, and we never had enough time to do this project.
Participants' work had an immediate impact. Digitizing the files helped us a lot in the remote world of work.
It went well for us. Participant completed the project, and that is a huge value.
Participant did an amazing job. It was great having them, and this was a win-win project.
---