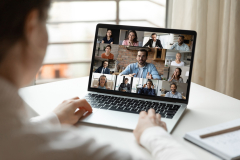 Experience the benefits of Virtual REACH, a research project designed to uncover the challenges faced by newcomers residing in remote and small communities in British Columbia. With this program, you'll have access to the Skills for Success sought after by Canadian employers, increase your chances of finding a job that aligns with your career choices, and even earn up to $150 in incentives.
Join us for a 16-week journey, delivered entirely online, as we work together to help newcomers achieve their employment goals in Canada.
PROGRAM HIGHLIGHTS
100% online 8-week career and skills development training
100% online 8-week job search support to help you find work
Enhance Skills for Success
Employability and technology skills training
Support with resumes, cover letters and interview skills
Customized training and support to help you succeed
Referrals to local employers and job placements in your region.
PROGRAM ELIGIBILITY
Newcomers living in rural regions in BC
Permanent resident
Protected Person as defined in S.95 of IRPA
Individuals who have been selected to become permanent residents, and who have been informed, by a letter from IRCC
Ukrainians on CUAET work permits
Basic digital literacy
Access to WIFI
---