Do you love helping people? Are you interested in becoming a Career Development Practitioner?
PROGRAM HIGHLIGHTS
Funded by the Ministry of Social Development and Poverty Reduction, this 20-week online Project Based Labour Market Program will prepare you for work as a Career Development Practitioner.
Training will be delivered Virtually and includes:
Skills for Success;
Occupation Specific Language Training;
Career Development Practice CE Certificate;
Diversity and Inclusion for the Workplace Certificate;
4 weeks in-person Work Experience.
PROGRAM ELIGIBILITY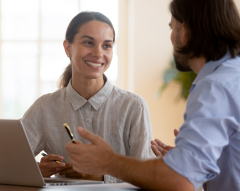 Personal Suitability
Referral from WorkBC Employment Centre
Currently in receipt of Employment Insurance (EI) or have received regular EI in the past 5 years or have earned more than $2000 in insurable earnings and paid EI in 5 of the last 10 years
BC Employment Assistance (EA) Client
BC resident eligible to work in Canada
CLB level 6+
Able to receive a Vulnerable Persons Criminal Record Check
Training will take place virtually online, and 4 weeks of work experience will be in person.