Your Guide to Career Counseling, Employment News, and Job Search Success. Our mission is to help you navigate the complex world of career development and job search, providing the guidance and support you need to achieve your goals. 
Mar 2023 | Apr 2023 | 
---
5 Top Questions to Ask in a Job Interview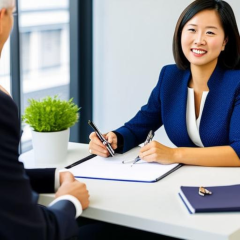 Job interviews can be nerve-wracking, but they are a necessary part of the job search process. Not only do they give employers a chance to learn more about you, but they also give you a chance to learn more about the company and the applied role. One way to show that you're engaged and interested in the job opening is by asking thoughtful questions.
Here are 5 top questions to ask in a job interview:
   1) Can you tell me more about the day-to-day responsibilities of this role?
This question will help you understand what you'll be doing daily. The interviewer may have already provided some details about the role, but asking this question shows that you're genuinely interested in learning more. It also gives you the time to clarify any uncertainties or misunderstandings about the role.
   2) What are the opportunities for growth and advancement within the company?
Asking this question shows that you're thinking long-term and interested in building a career with the company. Knowing about growth opportunities can also help you determine if the role is a good fit for you. If there's no clear path to advancement or if the company culture doesn't align with your values, it may not be the best place for you to grow your career.
   3) How does this role fit into the overall goals and objectives of the company?
This question demonstrates an interest and an awareness of the significance of your role in contributing to the company. The response to this question will also provide you with more clarity on how your position aligns with the company's mission and vision.
   4) Can you tell me about the department or team I would be with in this role?
By asking about the department and employees, you can learn more about the people and give insight into the company culture and communication style.
   5) What is the company's approach to professional development and training?
A professional development question demonstrates to the interviewer that you are interested in advancing your career by building your skills within the organization. It also helps you gain insight into the company's investment in its employees, dedication to employee development, and commitment to continuous growth, which can help you decide if the company meets your professional goals and aspirations.
Asking thoughtful questions during a job interview can help you learn more about the role, the company, and the people with whom you will be working. It also shows that you're engaged and interested in the job. These 5 questions will help you get the information you need to determine if the role is a good fit for you both in the short and long term.
👀 If you are struggling to find a job and need help with interview skills, visit www.douglascollege.ca/traininggroup to learn about all our free employment programs and services.
#jobinterview #interviewquestions #jobseekers #jobtips #jobadvice
---
From Unemployed to Employed: How Career Counselling and Employment Training Programs Can Help!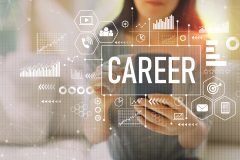 Finding employment can be challenging in today's job market, but career counseling and employment training programs can help job seekers navigate the process and find the right career path. Career counselors are trained professionals who guide individuals seeking to make career decisions, helping them identify their strengths and weaknesses, assess their skills and interests, and determine the best career path based on their unique abilities and aspirations.
Working with a career counselor can also help job seekers explore different industries, job types, and work environments, providing a more informed perspective on their career paths. Career counselors can also assist with job searching, resume writing, and interviewing skills, helping job seekers improve their chances of landing a job that aligns with their interests and abilities.
In addition to career counseling, employment programs can provide valuable support to job seekers. These programs can offer job search workshops, resume writing assistance, interview preparation, and other services to help job seekers find employment opportunities that match their skills and interests. Employment training programs are often funded by the government or non-profit organizations, making them a valuable resource for those who may not have the financial means to pay for career services.
Employment training programs can also help job seekers develop the skills they need to succeed in their chosen careers. These programs can offer training and education opportunities in various fields like sales, technology, and skilled trades, helping individuals gain the knowledge and skills necessary to succeed in their chosen careers.
The benefits of working with a career counselor and utilizing free employment programs are clear. They can provide job seekers with the guidance, support, and resources they need to make informed career decisions and find employment opportunities that align with their interests and skills. If you're looking for your first job or a new career, consider us at the Training Group and explore our free employment programs available in your area to see how we can help you find the right career path. Visit www.douglascollege.ca/traininggroup.
#jobsearch #careerdevelopment #employmentprograms #jobseekers #careeradvice #jobtraining #jobskills #jobseekersupport #jobsearchingtips #careerexploration
---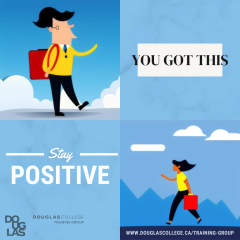 Happy Thursday job seekers! We know that the job search process can be a challenging and discouraging experience, but staying motivated is crucial to success. Here are some tips to help you stay motivated and positive during your job search:

Set achievable goals: Break down your job search into smaller, achievable goals, such as updating your resume, researching companies, or reaching out to contacts. Celebrate each small victory along the way.

Focus on your strengths: Make a list of your strengths and accomplishments and remind yourself of them whenever you start to doubt yourself. Use these strengths to create a personal brand that highlights your unique value to potential employers.

Seek support: Talk to friends and family about your job search and ask for their support and encouragement. Join job search groups or forums where you can connect with others going through the same experience. Surround yourself with people who believe in you and your abilities.

Take breaks: It's important to take breaks and step away from your job search from time to time. Do something you enjoy, whether it's reading a book, going for a walk, or spending time with loved ones. Taking time for self-care can help you recharge and come back to your job search with renewed energy.

Stay positive: Focus on the positives of your job search, such as the skills and knowledge you are gaining, and the connections you are making along the way. Believe in yourself and trust that the right opportunity will come along. Use positive affirmations to help you stay focused on your goals.

Remember, the job search process can be a long and challenging journey, but with the right mindset and support, you can achieve your career goals. Share your own #ThursdayMotivation tips and connect with others who are also on the job hunt. Let's inspire and encourage each other to reach our full potential! 💪🏼✨

#JobSearchMotivation #CareerSuccess #JobHunting #CareerDevelopment
---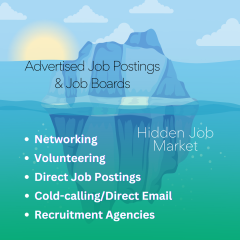 The job market is constantly changing, and while job boards and career fairs are common ways to find job openings, a hidden job market is not advertised through these traditional channels. The hidden job market refers to job openings that are not publicly posted or advertised but are filled through other means, such as referrals, networking, and personal connections.

To tap into the hidden job market, it is important to use creative and proactive job search techniques. Here are some tricks for finding job openings that are not publicly advertised:

1) Network, network, network: Reach out to friends, family, former colleagues, and college/university alumni. Attend industry events and join professional associations to connect with people in your field. Be sure to let them know you are looking for new opportunities.

2) Cold calling and emailing: Research companies in your industry and contact them directly to inquire about job openings. Even if they don't have any current openings, they may keep your resume on file for future opportunities.

3) Volunteering and internships: Volunteering or interning at a company can be a fantastic way to get your foot in the door and gain valuable experience. It also allows you to make connections within the company and may lead to a full-time job offer.

4) LinkedIn: LinkedIn is a powerful job search and networking tool. Use the platform to connect with people in your industry and learn about job openings at companies.

5) Industry-specific job boards: While not all job openings are advertised on major job boards, industry-specific jobs are often listed directly on the company website under a careers section.

It's important to remember that the job market can be competitive, and you may not hear back from every company you reach out to. However, by using these proactive job search techniques, you can increase your chances of finding job opportunities that are not publicly advertised.

💡 If you or someone you know is struggling to find work and could benefit from career counseling or employment training. Please visit www.douglascollege.ca/traininggroup to learn about our cost-free programs and services.
#jobsearch #hiddenjobmarket #careeradvice #jobhunting #jobtips #networking #careerdevelopment #careertransition #professionaldevelopment #resumetips