r(evolve)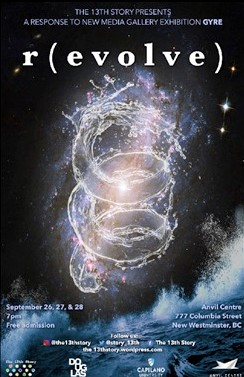 About: r(evolve) is a newly devised piece that explores movement, sound and energy. The members of the 13th Story investigate the concept of "gyre", commonly understood to be the physical motion of swirling. Often seen in vortices of gas or liquid, it can be described as a circular motion, a rotation, or a revolution. "Gyre" is also the name given to immense swirling ocean currents which are caused by the wind and the earth's rotation. Thirteen emerging theatre artists have created a series of pieces to express contemporary relationships in society that prevail in the human experience within our orbiting cosmos. They've highlighted these ideas through a series of five movements that mimic the five ocean gyres, which will take the audience on an intimate and intricate journey of humanity. The first sequence presents choreographed movement and original music to express different types of romantic relationships. Themes of power and manipulation are further explored physically by creating a metaphorical vortex in the second movement. The performers retreat from this larger than life movement into a monologue that expresses the relationship humans have with time and each other, a heartfelt moment that draws attention to loss and rebirth. The fourth movement provides a moment of peace that further explores the existential meaning of ownership and the importance of connection in our busy world. The final movement expresses strict, contained and chaotic choreography. This regimented discipline reveals the impact of education and employment in today's western society. These movements mirror the rigid patterns we find in our individual lives, as well as the ongoing evolution to break free from conformity.
The 13th Story invites audiences into the loading bay of the Anvil Centre, a space that amplifies and challenges the motion of "gyre".
The 13th Story is a performance collective composed entirely by students from the Bachelor of Performing Arts program at Douglas College.
Patrons must reserve their tickets online to ensure entry into the space.
Preview: September 26, 2018, 7pm
Performances: September 27 - 28, 2018, 7pm
Location: Loading Bay at the Anvil Centre
Tickets: Free. Book tickets on Eventbrite https://www.eventbrite.ca/e/revolve-by-the-13th-story-productions-tickets-48470748313
Website: https://the13thstory.wordpress.com/
Facebook: https://www.facebook.com/the13thstory
Instagram: http://instagram.com/the13thstory
Twitter: twitter.com/story_13th
UNDISCLOSED & AGENCY REPORTS - October 2016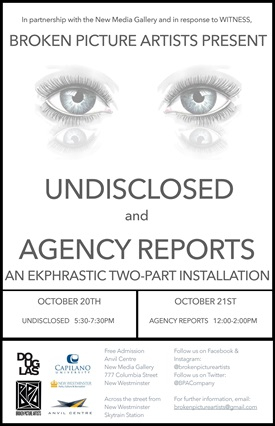 About: The Bachelor of Performing Arts at Douglas College is thrilled to presents interdisciplinary works in response to Witness, the current exhibit at the New Media Gallery, Anvil Centre: UNDISCLOSED and AGENCY REPORTS. Exploring aspects of Witness, this cohort has created two distinct performances based on different interpretations of this theme: UNDISCLOSED and AGENCY REPORTS.
Undisclosed invites the audience to explore the fine-line between curiosity and invading privacy. By observing a fractured reflection of mundane daily activities, this piece acts as a direct contrast to the technology based exhibits currently in the New Media Gallery.
Agency Reports is a performance made up of multiple vignettes created in response to stories generated by the 'Agency at the End of Civilization' currently being showcased at the New Media Gallery. These machine-generated stories are brought to life through human interpretation.
If you enjoy interdisciplinary arts, there are two opportunities to experience students from BPA program's interpretation of WITNESS.
Date and Time: Come and join UNDISCLOSED on October 20, 2016 | 17:30 and AGENCY REPORTS on October 21, 2016 | 12:00pm!
Location: Performances are taking place at the New Media Gallery, Anvil Centre, 777 Columbia St, New Westminster, BC. 
BPA Grads invited to Prague Quadrennial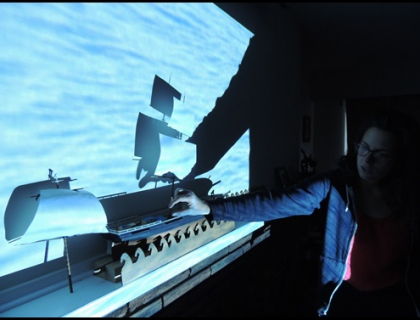 Douglas College is pleased to announce that Bachelor of Performing Arts graduates Jordan Lloyd Watkins and Corwin Ferguson will present their work at the Prague Quadrennial in June 2015 in Prague, Czech Republic.
The Prague Quadrennial is the largest event in the world dedicated to scenography and theatre architecture. "The incredible honour that our alumni have been chosen for this prestigious project, speaks to the quality of student interested in our Bachelor of Performing Arts," says Stuart Aikins, Special Faculty Appointee, BPA. "The entrepreneurial spirit of Jordan and Corwin epitomizes the desired experience we hope to deliver."
Under the mentorship of Alexander Ferguson, a Studio 58 (Langara) graduate and current BPA Instructor, Jordan and Corwin developed a micro projection design installation piece entitled Le Voyage that has been selected, and subsequently invited, to participate in the Prague Quadrennial.
2015 PuSh International Performing Arts Festival
This past January, the BPA student cohort, Looseleaf Collective, presented Phantasmagoria: Circus of Dreams at the PuSh International Performing Arts Festival. The Loose Leaf Collective is a group of 23 students with backgrounds in theatre, music, dance, visual arts, design and production management, who recently completed their degree studies.  
The sun sets just like on any other day, but tonight is different. As darkness stretches across the sky, a murky outline slowly appears. Light leaves our world and a passageway to another forms. An archway marks the entrance and its sign reads Phantasmagoria: Circus of Dreams. On stage, the sights and beings are dizzying. The acts are both perplexing and intoxicating. The line between reality and the imaginary blur, seeping into one another. Just as you rationalize what you've witnessed, something else captivates you entirely. You begin to question whether you ever left your pillow, whether this is all just a dream.
The PuSh Festival is pleased to present this Loose Leaf Collective production, as the culmination of their educational experience in the innovative Bachelor of Performing Arts program.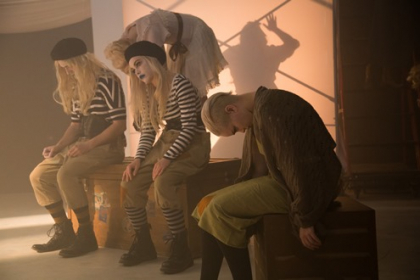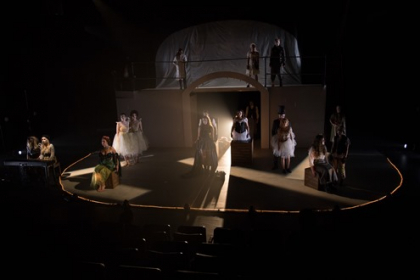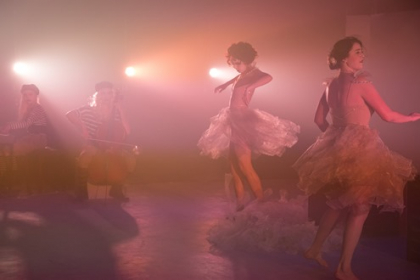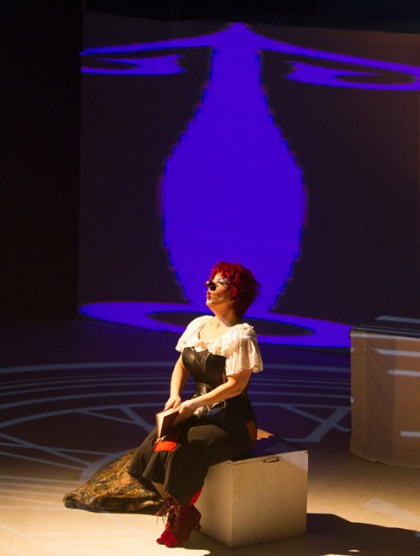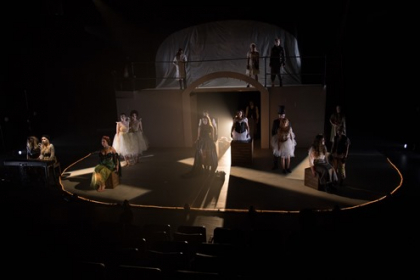 (Photos: Len Grinke)