The Douglas College Music Department presents concerts of all descriptions, from Classical recitals to jazz and world music. Evening performances include concerts by Douglas College performing ensembles, student recitals, guest artists, student composers and a variety of other events.
The Arts in the Afternoon series
The popular The Arts in the Afternoon series is held most Thursdays during the semester, starting at 3pm. This series features professional musicians and outstanding Douglas College music students. Admission is free. For more information, please contact the Arts Events Officer, artsevents@douglascollege.ca or 604-527-5495
Instrumental Ensembles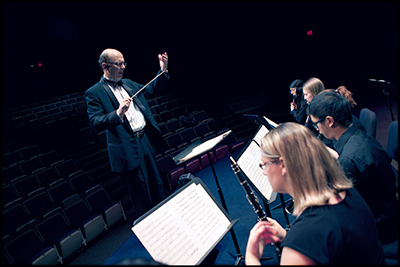 Play an instrument?
Join the Douglas Concert Band or Jazz Band!
Students who have experience playing wind, brass or percussion can join Douglas bands and receive credit for Musc 1130 / 1131.
About Douglas Concert Band and Jazz Band
Benefits
The music is challenging but rewarding and performances take place both on and off-campus. 
Enjoy playing music throughout the year!
Receive CREDIT for Musc 1130 / 1131
This opportunity is open to
All Douglas College students, no matter what program you're studying
Community members
High school students
Rehearsal times
For students taking the courses for credit
Please consult Banner for your course times and locations
For students who wish to join as community members only (no credit)
Concert Band: Mondays and Wednesdays, 3:30-5:20
Jazz Ensemble: Tuesdays 4:30-6:20
Chorus: Tuesdays 6:30-8:30
Chorale: Mondays and Wednesdays, 7:00-8:50
Want more information?
For more information on the Music programs at Douglas College please visit the Music Department website.
Read More