2020/2021 & 2021/2022 Academic Year
Please note the Employment Support Specialty program is currently on hold and is not accepting applications for the 2020/2021 and 2021/2022 academic year. If you are interested in applying for the program, please email to let us know.

We will inform you should the program reopen.
Email Us
If you want to upgrade your skills for a rewarding career supporting people who have disabilities or other barriers to finding employment, the Employment Supports Specialty Advanced Certificate is for you.
---
This online-only program is the first program of its kind in Canada and fulfils a training gap for people who assist youth and adults with significant employment barriers in finding and enhancing their employment outcomes. Geared toward students and working professionals, this part-time program offers you the ability to study anywhere in Canada while maintaining your work/life balance.
Solid Foundations
The Employment Supports Specialty Advanced Certificate program is designed to provide you with a solid foundation in contemporary perspectives on disability in relation to vocational supports and services for youth at risk and people with disabilities, mental illness and other employment barriers.
Applied Practices
Theoretical frameworks and employment supports models are the focus from which evidence-based methods and practices are examined and applied in the context of your work environments.
Valuable Skills
The program has been structured to address the training needs of practitioners employed in the education and human service field as well as professionals whose work aligns with enhancing employment outcomes for these diverse populations.
Transfer Options
The Employment Supports Specialty Advanced Certificate courses have been approved as transfer credit to the following educational institutions:
UBC - Special Education Department
Kwantlen Polytechnic University - Bachelor of Applied Arts in Psychology
University of Calgary - Bachelor of Community Rehabilitation and Disability Studies
University of the Fraser Valley - Bachelor of Adult Education
Student Success Story
Employment Supports Specialty student Pippin Brown helps her clients find meaningful jobs.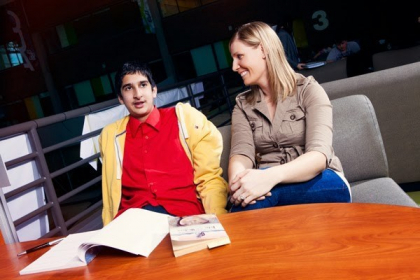 Testimonials
"The ESS diploma was such an interesting course for me. It has helped me professionally to think creatively in assisting front line managers to adapt and modify work duties for employees with acquired temporary or permanent disability, and it has helped me as a parent of a teen with an intellectual disability to navigate and advocate for him as he transitions into early adulthood.  The course has had a lasting impact for me and not a day goes by where I don't notice an "ableist" or cringe that a co worker didn't use "people first" language, or consider if the building I am in is truly accessible to all and if it isn't how could it become more accessible."
– ESS Grad and Award of Distinction Recipient
"The Employment Support Specialty Program has offered me the opportunity to upgrade my skills in an area of passion.  It is convenient and student centered with knowledgeable instructors.  It is also a great fit for me as a mature student and busy Mum."
– ESS Student
Want more information?
For information about admission requirements, courses, intake dates and more, visit the Program and Course Catalogue.

Read More