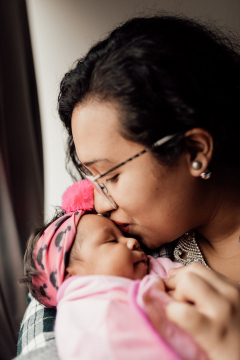 What you will learn
Now, more than ever, we are committed to helping pregnant families through this challenging time by providing accurate, up-to-date information on what they can expect during their birthing experience and how to prepare for early parenting. Our classes will offer a combination of our prenatal class series as well as our newborn care classes.
You will learn valuable tools and tips for prenatal care, including the challenges of late pregnancy, what to expect during labour, hands-on massage skills your partner can use to keep you comfortable, and how to deal with post-partum depression. You will also learn the fundamentals of baby care, including how to provide a safe and nurturing environment that will support your baby's physical and emotional growth. Topics include: diapering, bathing and dressing, safe sleeping arrangements, arranging a safe home for your baby, feeding from birth up to 4 months, carrier and car seat safety, and overall health and wellness.
Our Breastfeeding Café gives you the opportunity to meet informally with other families and a certified lactation consultant. These groups are open to you at any stage of pregnancy or postpartum and we invite everyone to bring their questions and concerns about feeding your baby.
If you are expecting multiples or planning a caesarean, small group chats can be scheduled by request.
Our classes are a place where you can connect with your instructor and others for support, ask questions and raise concerns. We use the many interactive tools available in Collaborate Ultra to make classes engaging and personal. Instructors are also available after class to answer specific questions and private conversations can be arranged.
Class facilitation and schedule
Live, online classes with an instructor are offered several nights a week and Saturdays. New groups start often and the full schedule is updated regularly in Collaborate Ultra.
You have access to every class so you can take as many classes as you like, as often as you like. In addition to the live sessions, classes will be recorded for future viewing.
You will find the outline HERE            You will find the schedule HERE
---
Course Information: Prenatal and Newborn Care Online
CRN: 31094             Course Fee: $200
---
CONTACT US:
Barbara Kornas, Perinatal Program Assistant:
kornasb@douglascollege.ca
Sharron Gibbs, Perinatal Program Coordinator:
gibbss@douglascollege.ca
What our participants are saying:
"Jenna is an excellent instructor and we found the classes engaging and informative."
"A job well done for organizing the online classes in the midst of a pandemic! Well done! My partner and I are thankful the classes continued online and found the new format still great! It was nice in that some more awkward questions did come up more often as people weren't shy typing them in!"
"We were very impressed. The online classes exceeded our expectation. Christine, in particular, was amazing. She gave information in a way that was not overwhelming or scary, and also was very entertaining. We really looked forward to Thursday evenings."
"Kortney was a fantastic instructor, very engaging and knowledgeable! We learned a lot and so glad we signed up for Douglas College Pre-Natal Class. Kudos!!"
"I would also like to take the time to mention how amazing it is that you offer this program to new parents; before we got surprised by the early arrival of our son, it was one of the few beacons of light during this pandemic that gave us hope and made us feel like we had a chance at being adequately prepared. So even if I don't get to enjoy it, I would like to thank you from the bottom of my heart for this."