Out of an abundance of caution, Douglas College is unable to offer the Doula Canada Birth Doula in-person training at this time.
Please contact Doula Canada directly for the possibility of joining a virtual class online. 
Douglas College is proud to partner with Doula Canada, a leading membership and certification organization for professional doulas. With a strong focus on collaboration and communication, and by providing unmatched mentorship opportunities, Doula Canada with help you become a confident, compassionate and effective support for birthing families.
Our labour and birth doula training workshop is filled with realistic hands-on activities that will build your skills and give you the confidence to begin supporting families through their birthing experience. Doula Canada mentorship will support you as you work to become a certified professional doula.
The Doula Canada team is led by working doulas who are there to provide significant mentorship and peer-to-peer support throughout the certification process. Our instructors are experienced doulas and skilled perinatal educators who make the workshops fun and memorable.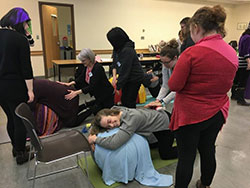 A Preview of Your Course Content:
Our comprehensive course curriculum and highly experienced mentors will help you deepen your knowledge about labour and birth doula essentials such as:
Effective communication in the doula profession
Childbirth physiology and the birthing process
Hands-on comfort measures for labour
Supporting the partner
Supporting home and hospital births
Providing early breastfeeding support
Creating a successful doula business practice, contracts, and client relations
And so much more!
Registration Fee: $500
This include everything you need to get started on your path to becoming a Doula Canada Certified Doula
Your fees include:
2 day hands-on labour and birth doula workshop
Lifetime membership in Doula Canada
Registration in the Doula Canada Certification process (no additional fees)
Certification processing, grading and exam fees
Access to the vibrant Doula Canada online community and mentorship
All course materials 
Darelle Walker, Perinatal Program Assistant Phone: 604 777 6531  I  Email: walkerd@douglascollege.ca
Sharron Gibbs, Perinatal Program Coordinator Email: gibbss@douglascollege.ca
For more information about Doula Canada and complete certification requirements see the Doula Canada Website. http://www.doulatraining.ca/birthdoulacanada.html