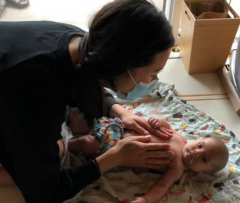 Feel confident that Douglas College is following the B.C.'s Public Health Officers recommendations for a safe return to campus in the fall. We know that this is both an exciting and an equally stressful time for many. We have your and your baby's health and safety top of mind.  We look forward to seeing you and your sweet one in our Baby Massage Class for Parents in the future!  COVID Information
Our Douglas College Perinatal Program is dedicated to delivering new courses that support and strengthen family and parent-infant bonding
About our IAIM® Classes
Our online delivery we host only five participants, classes are small enough to provide parents and their babies with the personal attention needed.  We use the interactive tools available in Blackboard Collaborate Ultra to make our classes engaging and personal.  IAIM® Certified Instructors are available after class for further discussion. Private conversations and classes can also be arranged. Should in-person classes need to be discontinued, the delivery mode will change to virtual sessions that will take place during the original scheduled class times. 
Whichever format you choose to learn the gentle and satisfying art of infant massage, Douglas College provides you with a safe place to learn, care, share and gather support from other parents in the company and guidance of an IAIM Certified Infant Massage Instructor.  We are dedicated to delivering courses that support and strengthen family and parent-infant bonding.
**Parents are the experts, babies are the teachers, and our IAIM® Certified Baby Massage Instructors are the supporters
Would You Like to Sign Up?
Fees: $99.00 - 6 weekly online live classes
To register:  Please phone or email the Continuing Education Registration Office at:
Phone:  604-527-5472
Email: cereg@douglascollege.ca
OR click the link at the bottom of the page under Ready to Register and follow the registration instructions.
List of dates and CRN's below.
What is IAIM®?
The International Association of Infant Massage – IAIM® is the oldest, World-renowned non-profit association that certifies its instructors to instruct parents in the art of infant massage after successfully completing a rigorous training program. IAIM®'s 5-week-course for parents, utilizes a curriculum based on research as a way to support and bridge infant massage's ancient wisdom with modern scientifically based knowledge. This amalgamation increases and solidifies parent-infant bonding through the gentle art of nurturing touch.  IAIM® is internationally recognized and considered the industry's gold standard in infant massage.
What will Parents Learn In the IAIM® 5 Week Course?   (Course Outline can be found below)
Over the 5-week period, parents will learn a variety of strokes that are the foundation for the IAIM® Baby Massage method. Our IAIM®-Certified Instructors will help parents to understand benefits of infant massage including:                                                                                    
IAIM® baby massage strokes
Understand and recognize their baby's body language and cues
Achieve better sleep
Help with colic or tummy troubles
Improve neuromuscular baby organization
Relaxation techniques 
The role of hormones in baby massage.
Stimulate physical and neurological development
What are students saying about our Baby Massage Course for Parents:     
 "I enjoyed the techniques of massage but also the theory behind them." ~Michelle
"I learned what my baby likes, she enjoyed the massage and it relaxed her. I feel like we bonded and I enjoyed meeting other moms and babies." ~Teri
"My baby is sleeping better through the night and it helped so much with self soothing " ~Jessica
 "I learned how calm my baby can be. I also learned why following my baby's cues is so important and this has helped so much with self soothing."  ~Nicole
"The class gave me some new tools to connect with baby and alleviate her gas pains!" ~Vivian
| | | | | | |
| --- | --- | --- | --- | --- | --- |
| CRN | Delivery Method | Campus | Day | Time | Dates |
| 31083 | Online | Online | Wed | 2:00 pm–3:00 pm | Oct 6–Nov 10 |
Notes:
All classes are approximately 60 - 90 minutes long. 
Private classes are available in person as well as online and can be tailored to best suit you and your family's needs.  This may be helpful for individual conditions that your baby may be experiencing or perhaps you prefer privacy and learn better in a one-on-one environment?  We also know the value of friends supporting friends, semi-private lessons are available as well.  Baby Massage Classes may be the one way of spending quality time with friends.  Whatever the situation, we can accommodate you and your precious baby!
Please contact ce_perinatal@douglascollege.ca - Subject:  Baby Massage Private Class Please
Baby Massage classes both private, semi-private and group welcome partners, we know that being a parent is a role best shared.
**Breastfeeding Café: As a student in the Perinatal Program, and part of the IAIM® Baby Massage Course, parents and their babies are also welcome to join our FREE Tuesdays and Saturdays ongoing LIVE online Douglas College Breastfeeding Café where parents will have the opportunity to meet informally with other families and have access to an Internationally Board Certified Lactation Consultant (IBCLC), who will moderate these sessions. We invite you to bring your questions and concerns about feeding your baby.  Links to our ongoing Douglas College Breastfeeding Café will be sent to parents on a weekly basis.
We invite you to take a look at other perinatal courses and programs. We look forward to having you in our classes.
IAIM Baby Massage Course for Parents Information
Baby Massage Course for Parents Course Outline
Instructor
Name: Denise Moore
Phone: 604 763 3113
Email: moored16@douglascollege.ca
Emails and texts/phone calls will be returned within 48hrs
Online Learning, Teaching and Tools
Online learning is conducted through Blackboard
Tools required:  *desktop or laptop computer with microphone, speakers and camera
Optional Text
Title:  Infant Massage:  A Handbook for Loving Parents
Author:  Vimala McClure
Publisher:  Bantam Books, 4th edition
Course Objectives
This course introduces parents to the art of communication through nurturing touch. Massage strokes that include the entire body of the baby will be taught. Information about the importance of relaxation, respecting baby's cues, choosing the best time and being aware of conditions will be emphasized.
Learning Outcomes
At the end of the six week course parents will be able to;
Confidently massage their baby using proven strokes as taught by a Certified Infant Massage Instructor.
Provide an environment for bonding and secure attachment with their baby.
Enjoy an enriched emotional and psychological bond that will continue between parent and baby.
Course Outline
Meet and Greet:  Welcome and Introductions (45min)
Introduction to Instructor, Parents and Babies
Parent Expectations
Review of the Welcome Email
Mission Statement of the IAIM
History of the IAIM and Founder Vimala McClure
Typical Class Structure
Supplementary Reading: Oils, Relaxation Exercise and Positioning, Asking for Permission
Session One:  Listening to Baby (60 min)
Parent Relaxation Exercise and Positioning
Asking for Permission
Massage Strokes for the Legs and Feet
Practice Massage Strokes
Best Conditions for Massage
Baby's Behavioral States
Supplementary Reading: Listening to Babies
Session Two:  Infant Communication (60 min)
Parent Relaxation Exercise and Positioning
Asking for Permission
Massage Strokes for the Tummy
Massage Strokes for the Relief of Gas/Colic
Practice New Massage Strokes
Review Massage Strokes from Session One
Infant Cues
Infant Communication
Supplementary Reading: Crying
Session Three:  Benefits of Baby Massage (60 min)
Relaxation Exercise and Positioning
Asking for Permission
Massage Strokes for the Chest, Arms and Hands
Practice New Massage Strokes
Review Massage Strokes from Previous Sessions
Infant Reflexes During Massage
Benefits of Infant Massage – Interaction, Stimulation, Relief, Relaxation
Session Four:  Adaptations for Your Growing Child (60 min)
Relaxation Exercise and Positioning
Asking for Permission
Massage strokes for the face and back
Practice new massage strokes
Review massage strokes from Previous Sessions
Adapting the Program for the Growing Child
Supplementary reading: Suggestions For Your Growing Child
Session Five:  Putting it all together (60 min)
Relaxation Exercise and Positioning
Asking for Permission
Review and Practice all Massage Strokes from Start to Finish
Gentle Movements to Support Coordination, Balance and Enhance Motor Development
Review all Theory Points
Parents' Evaluation*
Supplementary Reading: Gentle Movements
*Parents' Evaluation
I value your feedback! A Parents' Evaluation will be provided to you to communicate your experience.
More on what parents are saying about this course.
'Of course learning the proper strokes was fantastic and they will be put to good use, but I really enjoyed all the discussion.  Denise is amazing and helped us so much!  Baby is sleeping better at night and the meaningful conversation helped me to deal with some postpartum I had been struggling with.  The classes exceeded all expectations I had.  It was just a fantastic experience all around and I would highly recommend it!  -  Jessica
'We really liked the online format and that we could do it in the comfort of our own home – especially with a baby it would've been difficult to commit to 5 weeks of packing her up, driving to location, driving back – would've been a huge ordeal.  Since it was on the weekend, I liked that mom and dad could participate, so many classes usually just moms attend.  Denise was excellent!  Clear delivery of information, liked the facilitation of the open ended questions at the end of class, with Covid, it was nice to hear from other parents.  I also liked that we are included in the Breastfeeding Cafes communications – creates an on-gong sense of community.  Overall really enjoyed the classes. THANK YOU!!'  -   Sarah
'Learning the variety of whole-body massage techniques, especially the ones to help with gas/colic was what I liked best about the classes.  The demonstrations combined with the visual handouts and hands on practice.  I liked how every week we reviewed the techniques from the previous classes, that helped with learning them better and engraining them into memory so they became more natural.  Practice makes perfect, especially with this type of motor practice.
Denise was lovely and has great communication skills; she seemed to have a natural way about her to make everyone feel welcome.  She did a great job teaching the concepts.  She explained everything really well which made it easy to understand and learn.  She was understanding and very accommodating when a personal illness situation came up.  It was a great course and very helpful that Denise shared other related resources like the Breastfeeding Café.  -  Jessica
Ready to Register?
Continuing Education Registration Information

Refunds are available to persons who request a withdrawal or transfer
more than three working days (72 hours) before the start of the course.
A $15.00 processing fee will be charged
Learn More