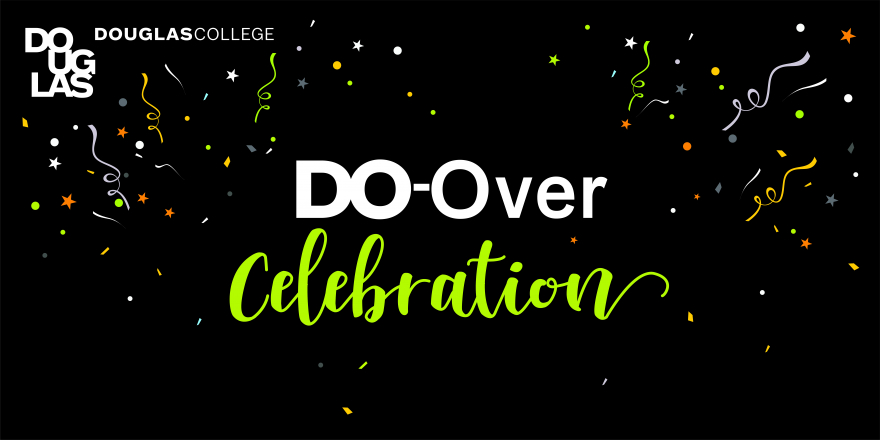 Douglas College is excited to invite you back to campus for an in-person celebration on Saturday, June 18, 2022. Here is all the info you need to know about the day.  
When to Come 
This is a drop-in celebration, so you may arrive at any time between 10am-3:30pm. The event ends promptly at 4pm and to allow people time to navigate the space, check-in will close at 3:30pm.  
There is no formal schedule of events or program; however, you are encouraged to attend during your graduating faculties' timeslot to connect with peers and instructors from the same programs:  
10 - 11 am: Faculty of Applied Community Studies  
11 am - 1 pm: Faculty of Commerce and Business Administration  
1 - 2 pm: Faculty of Health Sciences   
2 - 3 pm: Faculty of Humanities and Social Sciences  
3 - 4 pm: Faculty of Language, Literature and Performing Arts, and the Faculty of Science and Technology 
These timeslots are only suggestions. You may arrive at any time and stay for as long as you're having fun.  
What to Wear and Bring 
This is a casual event, so please come in what you feel comfortable in and are happy to take photos in. There will be some walking around and activities both inside and outside. All areas will be covered and a coat check will be available.  
Regalia will be provided at photo stations. If you received a grad cap in your grad box, you are welcome to bring it alongside your credential for photos. Extra caps will not be available on site.  
Parking 
Parking at the New Westminster Campus will be complimentary during this event. For directions to the parkade, click here. 
Check-in 
Please check in at the registration tables on your arrival. Registration is located outside of Enrolment Services on Level 2 Concourse.  
You will be provided with a badge indicating your year of graduation, which will allow you to access regalia at the photo stations. 
Photo Stations 
In the concourse, you will have access to three photo stations, each decorated with the three graduating class years – 2020, 2021 and 2022. To take photos at a photo station, line up next to the photo station. It will be your choice if you wish to wear regalia. A member of your group or a volunteer will take your photo and then you will drop your regalia off at the "Drop Off" station to be sanitized and steamed.  
Theater Foyer 
After the concourse, make your way to the 4th floor area outside the Laura C. Muir Theater for live music, drinks and more photo opportunities, including a "Walking the Stage" photo station located inside the Laura C. Muir Theatre. A cash bar will open at 1 pm.  
Outdoor Reception 
At the end of the Theatre foyer area, use the doors to walk outside into another reception area where you'll find food, a perfectly Instagrammable photo station in front of a flower wall, and more room to mix and mingle with instructors, family and former classmates. Regalia will not be available in this section, but we will be toasting the past graduates with warm wishes and congratulations from the College. 
Alumni Relations and the Career Centre 
Alumni Relations is hosting a Celebration Lounge in the Douglas Students' Union building including sweet treats, fun beverages and interactive games all while grooving to the sounds of a DJ.     
Health and safety 
Masks are optional on Douglas College campuses. If you or your guests are unwell or have any illness symptoms, please stay home. Please refer to our COVID-response site for more information.  
Questions? Check out the FAQ below. If you need further information, email us at events@douglascollege.ca.  
Frequently Asked Questions
Yes. Children under two years of age do not require a ticket and don't count as one of your two guests. Children over two will require a guest ticket. 
Due to capacity requirements and an unprecedented amount of interest in this event, we are currently unable to accommodate additional registrations. We will determine if we can accommodate any additional tickets by May 31. Please check our website in early June for an update on whether a limited number of tickets will be made available.   
Unfortunately, no. Due to limited capacity, we can only accommodate the graduates from the class between Summer 2020 and Winter 2022. 
If you did graduate between Summer 2020 and Winter 2022 and did not receive an invite, please contact events@douglascollege.ca to be included in the May 31 release of additional tickets, if any remain.  
Yes, Douglas College can provide invitation letters. Please contact events@douglascollege.ca and we will provide you with that information. 
You can change your ticket information in Eventbrite using your confirmation email. 
Yes, you can bring whomever you would like as your guests, even if they are different than who you originally registered.  
Gowns will be provided on-site for photo ops. We will not be providing caps for sale or use at the event. You may bring a cap of your own for photos.  
Parking at the New Westminster Campus will be complementary on June 18. For directions to the parkade, click here.